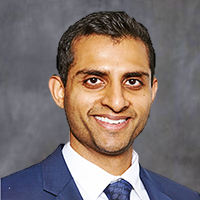 Biography
Dr. Malik is a Harvard-trained interventional management pain physician. He spent much of his childhood in the Midwest, and he has a profound appreciation for the friendly people in Texas.
He has received specialized training in interventional pain management procedures by the leaders in the field at Beth Israel Deaconess Medical Center and Boston Children's Hospital. He has developed a deep knowledge of nerve blocks, joint injections, epidural steroid injections, vertebral augmentation procedures, vertebral compression fractures, radiofrequency ablation, neuromodulation, spinal cord stimulation, complex regional pain syndrome, post-laminectomy syndrome, and post-surgical pain syndrome.
Dr. Malik has authored multiple peer-reviewed journal articles, presented his research at national conferences, authored book chapters for researchers and pain management fellows, and he has also written research grants for the National Institute of Health (NIH). Dr. Malik's current research includes the study of vertebral augmentation procedures (kyphoplasties) in patients with osteoporotic vertebral compression fractures. His aim is to provide evidence-based pain treatment regimens with the highest standard of care to improve his patient's quality of life.
In his free time, Dr. Malik enjoys watching college football, cooking, and spending time with his family. He is fluent in English, Urdu, Punjabi, and Hindi.
Education
Ohio State University College of Medicine – Columbus, OH
Beth Israel Deaconess Medical Center – Boston, MA (Residency & Fellowship)
Board Certifications
American Society of Anesthesiology (ASA)
American Society of Regional Anesthesia and Pain Medicine (ASRA)
American Society of Interventional Pain Physicians (ASIPP)
International Association for the Study of Pain (IASP)